Winning the Quest for Consumers' Hearts & Minds
06/03/2019
What if we could… Win the quest for consumers' hearts and minds with fire, ice and dragons
You're walking down Michigan Avenue in Chicago, but not a single retail shop facade grabs your attention. Until a 'bluer' than usual AT&T store (courtesy of its ice and dragon-themed storefront) stops you in your tracks. Instantly, you're itching to explore what awaits inside.
That burst of curiosity and excitement. That's what retail should be about.
For the final season launch of one of the most anticipated television series of our time, HBO, AT&T and Twenty Four 7 joined forces in the quest to capture consumers' hearts and minds. Together, we forged an immersive Game of Thrones retail experience for shoppers visiting the AT&T Michigan Avenue store to 'feel' the show like never before. Our technologists got to work engineering an arsenal of physical and digital design elements to create unexpected and memorable visitor interactions.
The result? A victory-worthy customer retail experience.
Another in a long line of AT&T store takeovers, we transformed their traditional retail environment into a beautiful fusion of design-driven, tech-infused activations all focused on providing consumers with access to the entertainment they crave. (Previous takeovers coincided with the premieres of Justice League and Fantastic Beasts: The Crimes of Gindelwald). Leveraging the latest work from our in-house Digital Innovation Lab, experiences throughout the store ensured that no matter the level of GoT fandom – super-fan or total newcomer – there was a universal engagement level that ignited customers' passions and sparked their excitement to bone-chilling new levels.
A burst of curiosity and excitement–that's what retail should be about.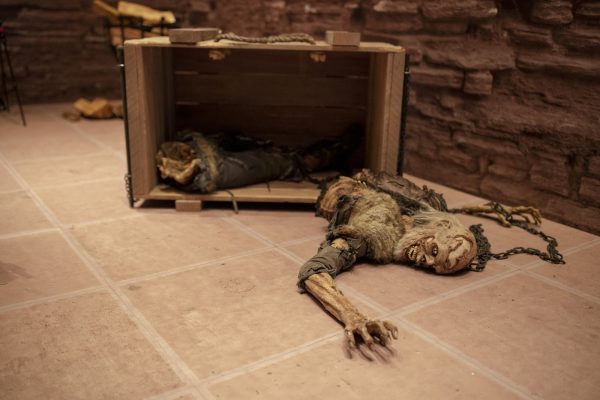 But we were strategic in which elements of the experience utilized technology. The design's Throne Room, for example, featured minimal technology to allow the authentic show props take center stage. It also meant that our technologists' best work had a chance to shine in other areas. Visitors (if they dared) could take a life-like trip beyond The Wall through an interactive 4D VR experience, while the truly brave could go head-to-head with a White Walker in a different interactive AR encounter. And that was just the beginning:
During the interactive Game of Thrones experiences we designed, visitors could
Battle a White Walker in an augmented reality (AR) encounter, powered by Magic Leap – an AT&T exclusive technology
Venture beyond The Wall in a 4D VR experience, complete with real-world rumbling floors and icy breezes
Create a custom "binge-watching" schedule to catch up before the season 8 premiere and export it directly to their digital calendar of choice
Compare their favorite moments and predictions for the season with other fans on a custom app designed and built in-house
Take part in a personalized game of trivia on tablets, in which visitors were only asked questions based on their progress in the show
Strike a pose on one of the few authentic replicas of the Iron Throne ever made
Get up close and personal with costumes, props, and even swords that were used during filming
Relax in an intimate Watch Lounge featuring limited-release content from the show
Not sounding like a traditional AT&T store? That's because it's not – it's a retail experience crafted with a strategic use of technology and reimagined with the help of our technologists.
And that's a core part of our battle plan for fueling not just brand loyalty, but brand addiction. Winter is here.